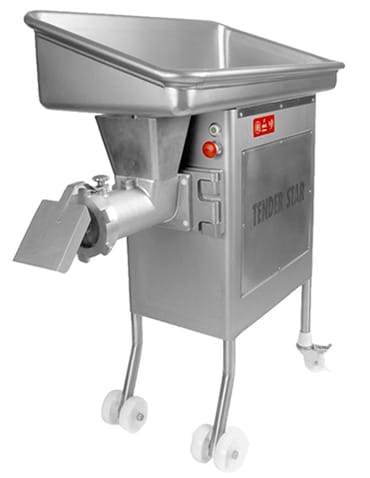 The Tenderstar TSH52 mincer is a robust and quality machine, made of stainless steel for a long life. Thanks to its large tank, its helicoidal hardened steel grooves and its powerful motor (completely enclosed in the structure), it is possible to grind up to 1600 kg of meat per hour.
This meat mincing machine is equipped with a trough with grooves to facilitate the rapid removal of meat particles and detergent products used to clean the machine. It is therefore easy to clean this mincer and thus to maintain optimal equipment hygiene.
This machine is also very safe as it has a probe to check that the tank is properly closed before starting, which prevents starting if the machine is not locked in its working position. In addition, it has a waterproof on/off button that protects against overloads.
The TSH52 mincer is delivered with a knife, a plate, a stainless-steel deflector, a wrench, and some spare parts and is guaranteed for 5 years.
Technical data
Machine dimensions (H×W×D):
1540×620×1260 mm
Tank dimensions (H×W×D):
300-120×620×1160 mm
Motor: three-phase 380 v (7.5 kW)
Capacity: +/- 50 kg/min
Warranty: 5 years